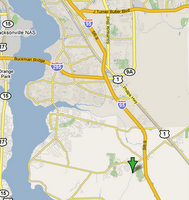 A delayed flight has Peyton and I arriving in Akron at 1:00am tonight, but our spirits are not dampened! We're excited to see our Akron friends again, really excited to have a road trip with some of the best friends a guy could hope for, and for having a place in Jacksonville to call "home" and unpack our belongings.
We'll get a U-Haul truck tomorrow (Thursday), run a few errands, and get things organized for the load-in. Hopefully by Friday afternoon we're all loaded up and we can hit the road for Jacksonville. We'll drive straight through the night, and arrive at the house we're renting around mid-day on Saturday. Load-out should go fairly quickly (we'll take any help we can get!) and then we can get some much-needed sleep Saturday night. Sunday we'd like to do something fun on the water while Stephanie drives down with the rest of the kids. Dinner together Sunday evening, before Eric, Dave, and Anthony drive back to Ohio (through the night).… Read the rest
Posted September 13, 2006
---

It's with great fondness that Stephanie and I welcome Rob & Beth Lott to our budding staff family! We've known Rob since he was in junior high and we're still amazed at his ability win our hearts on and off the stage. Somehow, he won Beth's heart as well, (a great mystery to be further explored) and the two of them have been married for four years, now. Rob & Beth have been in Orlando and Tokyo for the last five years in various entertainment roles with Walt Disney, and Sea World. Rob's role in the church will be to make our environments irresistible, particularly Sunday mornings. While Rob will not be directly leading worship from the stage, he will be indirectly leading us in worship as he plans and executes the myriad details of creating foyer environments with excellence.
Rob & Beth are looking forward to joining us in Alpharetta for the next few weeks and then on to Jacksonville.… Read the rest
Posted September 5, 2006
---
We're two weeks past Leadership Summit, and I've enjoyed reading some of the buzz out there about Andy's talk at the Summit.
In case you missed out, Willow Creek sponsors a huge leadership training event each August in South Barrington, IL. Hundreds of churches around the world pick it up on satellite, and something like 70,000 people watch it live. This year, Andy chose to share his 'best leadership decision ever', also detailed in his book, "Choosing to Cheat."
It's a message desperately needed in our culture today. He essentially says that we're trading in our families for work, and that includes pastors. Some time ago he and Sandra settled on a 45-hour work week, and devotes the rest to family.
Now, I come from a really great, really healthy church. But, this was not the culture there! Our senior pastor worked 70+ hours a week, and the bar was clearly set for the rest of us. Everyone on ministry staff was expected to work 52-60 hours, and take only one day off each week.… Read the rest
Posted September 4, 2006
---