Follow this link to download the latest podcast from North Point, "Pause." Here's the description from iTunes:
Temptation isn't new. From the apple in the garden to the guy with the cute smile to the less than legitmate business deal, we all struggle with temptation. But why is it that we can't just walk away? Though we promise ourselves that next time we'll be stronger, last longer, and pass up the chance, it seems like we keep making the same choices over and over again. In this series, we realize what is behind temptation and what is at stake every time we're tempted, and in doing so we find the confidence to respond as Jesus did.
Give it a listen, and then share it with a friend. These podcasts are a great way to familiarize yourself with Andy's teaching.… Read the rest
Posted January 30, 2007
---

Some of you couldn't make the info meeting, and you are dying. Calling me, emailing me, driving past my house…okay, okay!! Here's what you missed:
Great food
Starbucks coffee
Free t-shirts
Really great people
Video of the North Point environments (one of which you can see on the front page of our web site)
A challenge from me about the kind of church we want to be
The opportunity to sign up to volunteer
The opportunity to sign up for the bus trip
Fear not! Much still awaits you! You can still:
Sign up to volunteer—especially in Waumba (preschool) and UpStreet (elementary)
Commit to pray each day for Access—34 days until we launch
Sign up for the bus trip—drop us an email
Consider helping financially—we want to start with our best foot foward
Spread the word, and invite your friends to the launch at UNF on March 4, 6:00pm
…
Read the rest
Posted January 28, 2007
---
Bill and Dianne Diffenderfer first attended North Point Community Church in Atlanta in 1995, before North Point even had a permanent location. They were quickly drawn to the church. "It was so comfortable," Dianne said. "You didn't have to know a 'secret handshake' or the words to the songs. Once we experienced that comfort level, we didn't want to leave."
Bill and Dianne were excited about North Point and continued attending. But in 1998, they moved to the community of Buckhead, 45 minutes from North Point. For a while, they drove to North Point, but soon decided that they needed to find a church closer to home. They started attending a local church, but would often take their new friends back to North Point.
During that same time, David McDaniel, a member of their local church, and two other men were talking to North Point about starting a church in Buckhead that would model North Point. Shortly thereafter, Bill and Dianne, the McDaniels, and 33 other families decided to start a new church in Buckhead.… Read the rest
Posted January 26, 2007
---
A friend of mine is really struggling with this concept. "The preacher has to be in the room!" he has said with passion. "He has to know his flock! He has to take the truth of God's word and apply it to their lives!"
I asked him if the same thing applied to his sermons that are broadcast on the local Christian radio station.
I have another friend whose grandfather is a well-known evangelist. He sounds a little like his grandfather when he preaches and he was literally waving his arms around the restaurant as he tried to talk me out of this kind of church plant. "The worship service is where the man of God delivers the word of God to the people of God! It must happen in the moment! It must be a two-way dialog!"
I didn't have the heart to point out to him that thousands, if not millions, have come to Christ by watching his grand-dad on television.… Read the rest
Posted January 25, 2007
---
It occurred to me today that I've never blogged here about our teaching methods at Access. Funny, some things you just get so used to…you forget to explain them to others.
You see, we are so focused on the biggest difference between Access and other churches (we care more about reaching people than keeping people) that we forgot to mention this other small difference: our preacher isn't in the room during the worship service. In fact, he's not even in the state!
Access Church is a strategic partner of North Point Community Church in Alpharetta, Georgia. While autonomous, Access shares the same values, strategy, and communicator with North Point.
Now let's be clear on something. This isn't an ego trip for Andy. It wasn't Andy's idea, and he even admits that he finds it kind of weird. So, why do we feel it's so important to hear from Andy? Why would we put Andy on the screen instead of hear from someone locally?… Read the rest
Posted January 24, 2007
---
Recently a friend of mine told me of an evening she spent at an upscale restaurant as a guest of the manager who trains the servers there. It seems this manager wanted to show her some interesting comparisons she'd noted between how restaurant servers do their jobs and what God has called the church to do. As they dined, the manager asked my friend to look closely at the details of this busy restaurant and observe what others might not notice. "See that little sugar packet holder on the corner of the table?" she asked. "It has been filled exactly as we require: ten white sugar packets facing this way, ten pink sweetener packets facing that way, and five blue packets standing sideways. The ketchup and steak sauce bottles are filled exactly to the label on the neck of the bottles, and even the inside rim of the bottle is wiped clean. And did you notice that your soft drink glass was refilled not when it was empty, but rather, when it was half full?"
My friend admitted not really having noticed much about these details but yes, now that it was brought to her attention, she could see that the servers here were doing a pretty amazing job of managing a variety of tasks that probably wouldn't really be noticed by the guests.… Read the rest
Posted January 21, 2007
---
Ren and Barbara Weise had been looking for a church to call home for several years, ever since they got married and settled near downtown Jacksonville in 2001. They wanted to find a church in their neighborhood and become part of a local body of Christian friends and neighbors. "We went to about 10 churches, and we were faithful to some for several months at a time," Ren said. "But nothing fit."
In 2006, Ren and Barbara read Waking the Dead by John Eldridge, and it changed their lives. "The book talked about how much God cares about hearts—that He sent Jesus to mend broken hearts and that Satan constantly works to steal the things that give us passion," Ren said. "We realized that, even though we had a great house in a great neighborhood, everything we loved and were passionate about was at the beach, so we decided to move."
Ren and Barbara moved to the beach and started looking for a church in their new neighborhood, but still were unable to find a church that "fit." "We were starving here," Barbara said.… Read the rest
Posted January 17, 2007
---
Are you interested in Access Church but can't make the informational meeting tonight at UNF? Or perhaps you want to come back again and bring a friend who should know more about Access?
If so, we invite you to join us for a second informational meeting on January 28, 2007, at 6:00pm. The meeting will be held at the University of North Florida's Fine Arts Center. We will present the same information at both meetings.
Ben, Rob, and I will be there with our families and the core team that has been praying and working for this for years! We're eager to meet you and hear your hearts for ministry in this area. We're also anxious to paint a picture of our vision for introducing thousands of people in Jacksonville to their heavenly Father. We really believe Access Church will be unlike other churches we've been a part of and, at this meeting, we'll have a chance to look at the evidence!… Read the rest
Posted January 14, 2007
---
Continuing in the "Who is Access?" series, today's post focuses on Chip and Susan Abernathy.
Chip Abernathy is too young to retire, but after seven years in Atlanta he and Susan were considering moving back home to Jacksonville. Susan's parents were in Jacksonville, and Chip had a great job opportunity there. But their son and his wife were in Atlanta, and so was their church, North Point Community Church.
Chip and Susan loved worshipping at North Point. For starters, they were personally impacted there. "Andy Stanley's teaching Sunday after Sunday was life-changing," Susan said. "He really taught me how to live out my faith."
They also found the environment exciting. "It was fun to see all the creative talent we're used to seeing in the working world turned loose in the church," Chip said. "The videos, drama, and graphics were excellent."
And the focus of the services made it easy for them to invite their friends and neighbors. "The whole service is purposefully designed to appeal to folks who don't go to church," Chip said.… Read the rest
Posted January 10, 2007
---

The two most frequently asked questions about Access Church are both about the music.
1. What's the music like?
2. Will it be loud?
The first answer is, "Excellent." Now, that doesn't mean that it will suit your personal tastes, or even mine. But we are committed to offering our very, very best to God and to our guests.
The second answer is, simply, "Yes."
The best way to prepare is to buy a copy of this CD today. Play it really loud. And let that be just one way that you offer your worship to God.
It's a great CD, it's brand-new, and you're gonna love it.… Read the rest
Posted January 8, 2007
---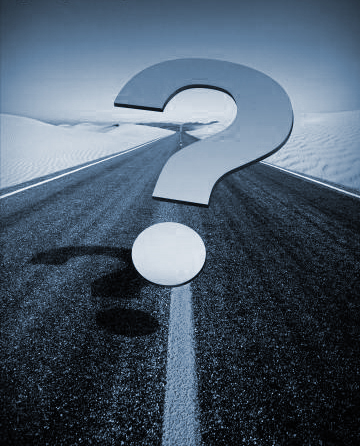 Wow, it really feels like things are moving now! Ben & Audrey are coming to town, the web site is up and going, and our launch is ever-closer!
The most exciting part is that we are going to get to meet so many of you that we've only emailed with or spoken with on the phone! And a great chance to do that will be this Sunday at our informational meeting.
This meeting will be an opportunity to meet and encourage one another, as well as explain our vision for what God might do here in Jacksonville. If you are wondering who we are, why we're in Jacksonville, and what our "next steps" are, this meeting is for you! Better yet, if you're ready to roll up your sleeves and help us accomplish the tasks at hand, then this meeting is really for you! Ben and Rob and I will be there with our wives and the core team that has been praying and working for this for years!… Read the rest
Posted
---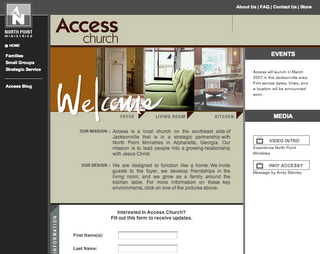 Our first web site is up and ready to go! We hope it's a good resource for you to pass on to friends and help them understand Access Church a little better. We're committed to adding new features in the months to come, so please let us know what would be helpful for you as invest in friends and neighbors and invite them to Access environments.
For now, you'll be able to view some key video clips, get a better understanding of our foyer-living room-kitchen strategy, and link to the blog and North Point Resources. We hope it helps!… Read the rest
Posted January 7, 2007
---

You're all invited to a truck unloading party!
Audrey and I spent all day today packing and loading our HUGE Penske truck! It's been a long day, but it's been pretty fun! SO, needless to say, you are all welcome to help us unload this bad boy. We should be pulling in around 5:00pm on Tuesday. (This truck seems to max at 60 mph while towing a vehicle… It's going to take us awhile to get there on Tues!) We'll order some pizzas or burgers, unload the truck and just hang out. I would give you directions to our home, however, I don't know how to get there! HA! If you're interested in helping, give me a call and I'll give you directions! 404.906.4975
Seriously, don't feel obligated… Just come hang out! You don't have to help unload the truck if you don't want. We're just anxious to meet you all and hang out.
Ben… Read the rest
Posted
---
This is the first in a series of posts intended to answer the question, "Who is Access Church?"
The stories you're about to read are from brave folks who have stepped out in faith to see what God might do in Jacksonville should they make themselves available. Allow me to introduce Michael and Zoie Morales.
Michael and Zoie went to high school together in Jacksonville and cultivated a friendship that led to two years of long-distance dating during college. After college, they decided to move to the same city to see if their relationship was "the real thing." In 2000, they both got jobs with banks and moved to Atlanta.
Michael and Zoie were ready to take their relationship to the next level, but they kept tripping over religion. Michael was raised Catholic, and Zoie grew up in a non-denominational Bible church. Their ideas about what a relationship with God should look like were very different. "It came to the point that we needed to find a church that made us both happy, or we were going to have to stop dating," Michael said.… Read the rest
Posted January 3, 2007
---