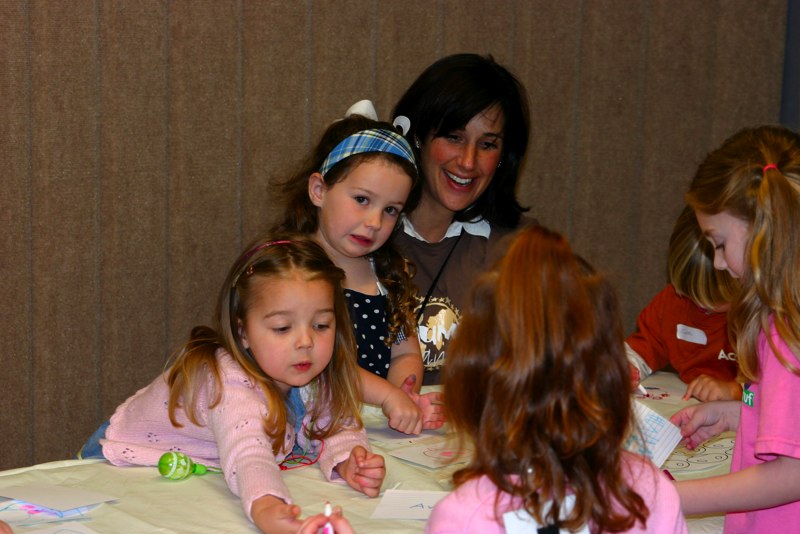 A few people have asked, when I've invited them to Access Church, if we have a "nursery" up and running yet.
"Do we ever!!" is usually my unbridled response. You see, I have a three-year-old, and I'm such a big fan of what our volunteers have created for pre-schoolers. You really ought to check it out this Sunday. It's so much more than a nursery!
Waumba Land is actually a small group environment for preschoolers. "Waumba" is the Swahilian word for Creator, and so the environment of Waumba Land emphasizes the Genesis story of creation. The rooms are designed to emphasize various nature themes: forests, oceans, heaven, jungles, etc.
The curriculum in Waumba is very intentional. We want pre-schoolers to know that God made them, God loves them, and Jesus wants to be their friend forever. They get to learn this in small groups while their parents are enjoying the adult worship environment.
Every pre-schooler should come and check out this environment on Sunday evening at UNF.… Read the rest
Posted March 30, 2007
---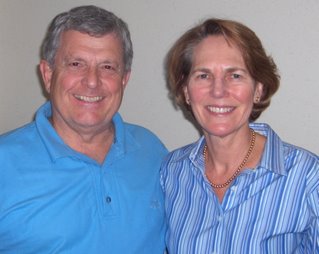 In all the rush of launching Access this month, we've taken a break from meeting some of the families that helped bring Access to Jacksonville. If you are new to reading this blog, then you might want to scroll back to January, where we met Michael & Zoie Morales. It's been about two years since Michael & Chip Abernathy met with David McDaniel, North Point's Director of Campus Expansion, about the prospect of a strategic partnership in Jacksonville. Along the way, God has brought us some fantastic people to get this church started, and we try to highlight some of those stories here. Many of you reading this will recognize John & Gail Brent who serve with host team and Waumba.
John and Gail Brent have been friends with Chip and Susan Abernathy for years, and when Chip's job took him and Susan to Atlanta, John and Gail visited them often. Besides spending time with their friends, the highlights of their trips to Atlanta were visits to North Point Community Church.… Read the rest
Posted March 27, 2007
---
Some of you have now had the opportunity to participate with Access in two worship services. Perhaps your children have now been in an UpStreet small group twice. And your baby has been loved and cared for in Waumba.
You might be visiting from another church, and very content to stay there, but you enjoy the Sunday evening alternative Access provides.
You could be returning to church after a really long absence, grateful to find a church that really wants to have "all the rungs of the ladder."
You may be brand-new to this church thing, and hopefully we're shattering your preconceived ideas!
At any rate, you might be wondering how we managed to find all the volunteers that are running lights, holding babies, and singing for UpStreet. Isn't it amazing how many people it takes to make a church run well? We are so grateful for each of these people.
Many of them have made a short-term commitment to help us out as we get on our feet.… Read the rest
Posted March 25, 2007
---
As you get to know the Barretts, you should know right up front that Stephanie is the deep thinker in our family. Recently she was sharing what I thought were some profound thoughts, and I asked her to write them down so I could share them here. She writes…
The kids and I were reading about monks and their ways not too long ago. The kids were unfazed. For them, times of silence and contemplation are associated with crimes committed against Mom's sanity. I, on the other hand, was giddy.
Quiet. Study. Contemplation. Quiet. Study. Writing. Quiet. All by candlelight.
When I actually began to chant, the kids asked if we were done here, and they exited to play XBOX. Loudly. I kept reading.
It seems that the first of the monkish breed decided to live away from everyone and everything else in places like deserts and even up in trees. This way, they were fully accessible to the things of God.… Read the rest
Posted March 21, 2007
---
Mondays are the best days to check email! Here are a few select bits from the inbox this week:
Some friend we had invited on March 4 not only came back, but brought friends with them! When God works in the hearts of first time attenders to get them to invite even more friends, then we are really on to something.
One couple said "We are still talking about the sermon and that hasn't happened in a long time."
My best friend for nearly twenty years, who I have never been able to get to church with me, came last night with his family. God has been ahead of me on this because when I asked him if they would come visit Access a couple of months ago he immediately answered "Yes." When I saw him after the service he couldn't stop asking questions. They were blown away by every part of Access!! Their children were taken great care of in Waumba.
…
Read the rest
Posted March 20, 2007
---
It's been quite a journey, hasn't it? Two years of disparate stories coming together to form a cohesive vision and strategy for Jacksonville, Florida—for our friends, neighbors, family, and co-workers. God is good!
I can't thank our volunteers enough for pulling this off. We could not have done this without each person using their gifts, inviting friends, praying, and giving financially. March 4 was awesome. We'll always remember it.
We're looking forward to tonight, inviting a ton of people, and have great expectations for what God is going to do!
Wait, did he just say, "inviting a ton of people"? I heard the room was overflowing on Sunday night. Inviting a ton of people to sit where?

We have a vision for this church to grow very rapidly—not so we can pat ourselves on the back, but because there are so many people in Jacksonville who could benefit from these environments! And I really have a burden for people to hear this next sermon on the church.… Read the rest
Posted March 18, 2007
---
I hope you've already got your tickets to see Louie, Chris, and Matt tonight. We'll see you all at Veteran's Memorial at 7:00pm!
Comment here and let us know what you thought of the event!… Read the rest
Posted March 15, 2007
---
Someone stopped me at the playground yesterday and asked me about the music we played Sunday night. "That was great music. So easy to learn and so worshipful. Can I buy it to listen to at home or in the car?"
Well, you can buy it at our Information Table before and after services, or you can buy it from North Point's online store. Stephanie and I have bought a bunch of CDs and have been giving them as gifts…there is a lot of great stuff on this CD. Get a copy today!… Read the rest
Posted March 9, 2007
---
Here's a peek into this week's "Inbox:"
I invited a couple and their 3 kids. I have known him for some time and they moved to Jax a couple of years ago and have been struggling to find a church home. Because of their struggles in finding a church, they have not been attending consistently that I know of. Well, when I saw him driving out after the service, he rolled down his window and yelled, "See you March 18th!"
We invited a non-churched engaged couple to the service. I've known both of them for five years and never really expected to see them in church. They had big smiles on their face afterwards and told me that they would love to come back next time.
And, overheard from kids meeting their parents after UpStreet,
"This is the best church! Can we start coming here?"
"I loved my small group leader. They were really cool!"
From Scott Tanksley, part of the North Point team, "Fantastic job Sunday night!
…
Read the rest
Posted March 7, 2007
---
Some photos of Sunday are available here. If you have others to send, please email them to me!… Read the rest
Posted
---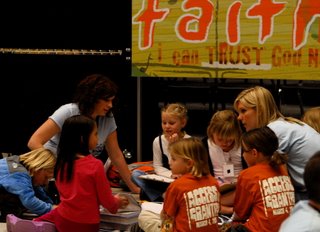 Our out-of-town friends and family have been faithfully praying for a "successful" launch of Access Church. So, now they are all asking, "Was it a success?"
Great question. And that makes us really define "success" for the launch of this baby church. To see lives changed for Jesus Christ is success for us. To see our friends, family, neighbors, and co-workers follow in a growing relationship with God is our mission and our goal as a church.
For our first service, we had one clear goal: to encourage everyone who attended to come back! That meant the music and speaking had to be dead-on, the environments had to be welcoming, the signage clear, the technical aspects complimentary, the children safe and loved. While we have room to improve, I think those goals were accomplished. Eddie Kirkland and the band were naturals at leading worship, the kids environments were top-notch, and in spite of having to share the building (that will not happen every week), I think everyone was able to find their way around and enjoy the experience.… Read the rest
Posted
---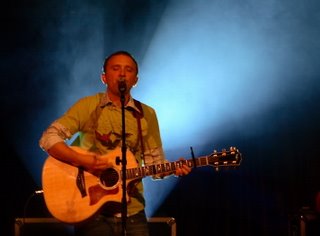 We are so grateful today. Grateful for each of you who pitched in to help and make Sunday a success. Grateful for each person that went outside their comfort zone to invite a friend or family member. Grateful to those of you who decided to try Access, even though you haven't been to church in a long, long time. Grateful to those who came from other churches to cheer us on. Grateful to those who gave financially to help this fledgling church get off the ground. Grateful to you who prayed and prayed and prayed, and most of all, so very grateful to God, whose mercy and grace truly is sufficient and to whom this all belongs!
We're thrilled with all that God has done. We have just been spectators as God has worked many miracles, small and large. If you've been standing on the sidelines, wondering if you should jump in with Access Church, let me encourage you that there is no better time to be a part of what God is doing here!… Read the rest
Posted March 6, 2007
---
Pray.
It sounds so passive, doesn't it? Like, you have no idea what else to say to someone in pain, so you say, "I'll pray for you." I mean, how many of us really think of "pray" as an action verb? I've talked with so many of you who say, "I really want to do something this week. What can I do to help you get ready?" And the answer is, PRAY.
The truth is, prayer is passive. It's the very discipline of recognizing that we are not in control, and God is. I think that's why it's so hard—because it forces our brain to recognize what our heart already knows…that this is God's thing, not ours.
Tonight at the leader training for Waumba and UpStreet I met so many of you who are excited about making this happen. So many who are jumping in with both feet. But, like I said to a few of you, we are just spectators in this whole miracle called Access Church.… Read the rest
Posted March 1, 2007
---