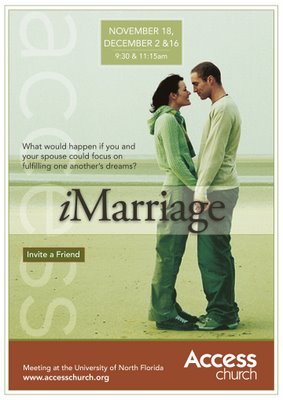 … Read the rest
Posted November 30, 2007
---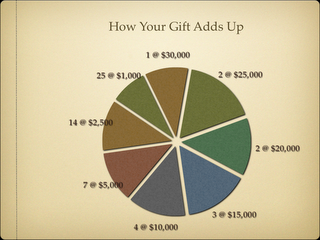 A small group of visionaries in Atlanta are so excited about what's going on at Access Church that they have offered to help us reach our destination. And they've offered this help in the form of a financial gift, where they will match, dollar-for-dollar, any visionary giving (marked "RoadMap") that we receive between now and December 31, 2007.
All they ask in return is that once we are financially independent, we help start other partnerships.
Such a deal!
That means that if you choose to support the strategies of this church, if you choose to help us create these environments, if you help us follow this RoadMap—then a group of people that live 400 miles away will join you in that mission!
Isn't that amazing? These are families just like you and I with lots of other things they could do with their money, but they are so excited about what's ahead for Access Church that they want to invest their money here.… Read the rest
Posted November 28, 2007
---
For the last month at Access Church, we've been talking about all the cool environments that we plan to launch in the next year or so here in Jacksonville. We've used the metaphor of a road trip—we know where we're going, we have a clear strategy for getting there, and we have some great people on board. We'd love to have you join us!
But we need you to kick in for gas money! 🙂
Access Church depends on two types of giving for our ministry:
Regular Giving
Visionary Giving
Regular Giving
Regular giving is from that part of us that says, "Everything I have is from God, so I'm going to regularly give back to him by prioritizing a percentage of my income for my local church." We believe this is a Biblical practice for believers to give their first-fruits to God. Regular giving is generally received by mail or Sunday offering.
Visionary Giving
When the dream for Access Church was born, we knew it would cost more to operate than we would initially receive in offerings.… Read the rest
Posted November 26, 2007
---
I love this day. I'm a sucker for big meals, parades, and tradition.
I'm also so aware today of how gracious God has been to us over the last year. It was just a year ago that we moved to Jacksonville, and in the last year he has brought us into so many great friendships with new people in this city, as well as preserving our dear friendships from Ohio. He led us to a home where there have been awesome opportunities to connect with neighbors and for our kids to have cool playmates. I've even had many more opportunities to waterski this year than I thought I would!
But, above all, He has given us a great staff and incredible volunteers at Access Church. So many at Access have instinctively understood our mission and jumped in to help in these encouraging ways:
Prayer

. I love it when someone stops me and asks how they can pray for Access or lets me know that Access is a regular part of their conversations with God.
…
Read the rest
Posted November 22, 2007
---
Have you ever felt like an amateur in the midst of professionals?
A friend of mine once won a local poker tournament, and through a wild series of events found himself competing in a nationally-televised, professional poker tournament in Las Vegas.
That's a lot how I felt this week when I found myself hanging out with the sharpest team of leaders I've ever known at WinShape Retreat in North Georgia. Besides challenging sessions led by David McDaniel, Bill Willits, and Andy Stanley, it was massively encouraging just to hang with 14 other guys who know first-hand what it's like to lead a North Point strategic partnership.
I flew back feeling so grateful for the opportunity to be a part of Access Church, and excited to lead our team to use their strengths in the months ahead. See you Sunday!… Read the rest
Posted November 16, 2007
---
What's the best way for a church to measure success?
Hint: It's not attendance, or offering, or buildings. It's not even community service.
It's life change.
And at Access, we really do believe that a small group is the best, most effective place for sustained life change to occur. We gauge our success by how effectively we help people move from our large environments into small groups. The most important number we track is not attendance, or giving, but the percentage of our adults in community groups.
Access Church hosted our very first GroupLink last Sunday. What an encouraging day this was for us! We saw 45% of our church plug in to community groups. Wow! We are so excited to see our church moving along the RoadMap with such a clear picture of where we're going and how we're going to get there. We are blown away by the stories we hear every week of life change and how God is allowing us to be a small part of something so big.… Read the rest
Posted November 14, 2007
---
I was so excited to have a chance to bring some of our volunteers up to North Point this weekend. Evan Wright and I got up extra early on Sunday so we could make it to North Point in time for their production meeting and run-through for the morning.
On the way in, we stopped at Starbucks to get some caffeine to help jump-start the day and get going. I've been to this Starbucks quite a few times now and have usually had to explain why I'm up so early on a Sunday and everything that goes along with early morning church conversations. This morning was no different. The lady at the register asked, and I was happy to reply. I explained the whole North Point thing and started into the fact that we're from the Jacksonville partnership when she stopped me.
She said, "Oh yeah, Access Church. I've heard of that." She went on to explain that she has a friend here in Atlanta who attends North Point, but her family lives in Jacksonville.… Read the rest
Posted November 12, 2007
---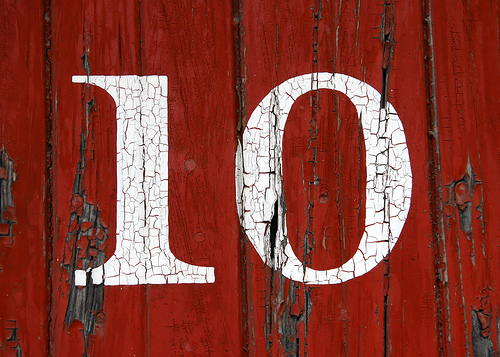 Ten is a cool number, isn't it? God made us with ten fingers, so it'd be really easy to count. Ten toes. And, as much as I hate trying to convert ounces to grams, the metric system really does make sense.
So, when my oldest son turned TEN at 8:55pm this evening, it was a really big deal in our family. Ten years of being parents. How in the world did that happen so fast? Wanna see a video of his first year? Stephanie and I look… well, a lot younger.
Yesterday we made cards for Peyton, and we all listed ten things we love about him. Perhaps that's why I'm thinking in terms of TEN, and why I wanted to share these ten things that happened at Access Church this weekend:
A man told his wife that the Verdict series has him actually considering placing his faith in Christ!
The band commented (again) on the professionalism of our production team.
…
Read the rest
Posted November 7, 2007
---
Since you're kind enough to check in here and read what we have to say, we thought you might appreciate some of these other voices in the blogosphere as well:
OrangeFamilies.com—Maintained by our very own Adam Flynt, this is the place to go to stay up to speed on family ministry at Access Church. Great applications here for teaching your kids about God!
Buckhead Church—Jeff Henderson and his team share stories and events in the life of Buckhead Church.
The Relevant Monk—Stephanie Barrett shares some of her thoughts on the journey to becoming a fully devoted follower of Jesus Christ.
First, Do No Harm—Scott Tanksley is a veteran of the campus expansion team at North Point, and has provided invaluable advice to our team in Jacksonville over the past couple of years. Here, he posts some thoughts on the church & society today.
Connexus Community Church—A new partnership in Canada that emerged from an existing church.… Read the rest
Posted November 6, 2007
---
We've been saying it for several weeks, now. Groups are the heartbeat of Access Church. You see, we believe that no matter how big a church gets, it can still stay "small" in the most important ways if we gather around the kitchen table, look each other in the eye, and do life together.
Look, we all know this is going to be a little awkward at first. I can't promise that you're not going to have a moment on Sunday afternoon when you feel a little bit like a middle-schooler. But, it's worth it! I promise!
Being in a group is essential. If you're single, it keeps you grounded, keeps you connected to others who "get it," and who understand the joys and frustrations of your stage of life. If you're married, it's a healthy chance for you and your spouse to talk through life with other couples and learn from each other.
If you're a skeptic, it could be a great chance for you to ask more questions and to hear the questions believers ask behind closed doors.… Read the rest
Posted November 1, 2007
---