The other night Stephanie did something very thoughtful. Again. She brought a friend her favorite dessert from her favorite bakery.
Do you think she just left it on the front porch and ran away quickly before she was noticed? No, she carried it right into the kitchen so she could see the look on Amy's face when she opened the box! It's fun to deliver a gift!
Sharing the truth of Jesus Christ is very similar. And, as Adam and I have discussed, how you go about it largely depends on whether you believe the message is a wonderful gift or terribly bad news. Are you more focused on telling someone they are a sinner bound for hell, or that there is a God who loves them enough to offer new life and hope? Do you believe you have a wonderful gift to deliver?
My post on the million-dollar tract generated a fair number of comments from ya'll. I'm glad to have your voices on this blog!… Read the rest
Posted April 30, 2008
---
We weren't really at church today, but we were with the church, and it was awesome!
Stephanie and I love being with Access volunteers, and today was a cool day to work side-by-side with the greatest team of volunteers in the known universe. It was a workday, prepping for our future as an every-Sunday congregation. It was also a worship day, as we sang, prayed, and took communion together. (Great job, Brian!)
I love the way this group of people worships and serves. You can see that they are committed in huge ways to "making much of God" through their time, money, relationships, and prayers.
Thanks for a great day, Access volunteers!… Read the rest
Posted April 27, 2008
---
Our staff feels very at home at Starbucks. We spend a lot of time having meetings there. But we've never stumbled upon such untold riches!
A little while back, Adam & I arrived a little early for a meeting and were waiting for our coffee to cool and the others to arrive.
Two women who'd been seated near us headed for the door, and a few newcomers headed toward their recently-vacated seats.
"Hey!" called one man after the women, "You left some cash!"
The woman looked oddly sheepish. "Oh, it's okay. You can have it," she replied.
The man backed away from the bill on the seat as if his integrity had been called into question. "Miss! Please take your money."
The woman walked back across the store, seemingly embarrassed at the attention she was receiving, and muttered something to the man as she bent to pick up the cash.
"Oh," he exclaimed as she was leaving. "It's one of those." The disdain in his voice was evident, and Adam and I knew immediately that we was referring to a million-dollar bill.… Read the rest
Posted April 24, 2008
---
What do you think?… Read the rest
Posted April 22, 2008
---
Last summer, Adam, Kevin, and I took a little trip down to Daytona to check out BigStuf Camp.
Now, if you've ever had any experience with the creative minds behind these camps, you know we were expecting a lot. We knew there'd be great speakers (anybody ever heard of Andy Stanley?), crazy fun stuff, and incredibly energetic and engaging worship.
But we weren't quite prepared for this:
The great news is that Steve Fee and his band are going to be back this year! But you'd better contact Brian and register soon. BigStuf is already 91% full!
BigStuf Camp is July 28-August 1 in Daytona Beach and open for those finishing grades 5-12.… Read the rest
Posted April 20, 2008
---
This week Andy Stanley will deliver part 2 of Canvas.
We live in a world created by God and designed to reflect His glory. Everything, including our lives, are tapestries created by him. He is working on the canvas of our lives so we can bring glory to Him. That is our sole purpose here on earth.
I've included a little teaser video below. Don't miss it! See you Sunday at 9:30 or 11:15am!
---

Whoa! May sure snuck up on us, didn't it? I can't believe that in just a little more than two weeks the Access team will be heading to Atlanta for DRIVE '08.
You are so gonna want to be there. You can meet this guy and this guy and this girl and this guy and this girl is the one in charge. And then there's him, and him, and him, and these folks!
I'm telling you—you don't want to miss this! Sign up now, here. Or if you're an Access volunteer, just shoot us an email and we'll hook you up with a special price, special parking, and VIP privileges!
Tick, tick, tick…… Read the rest
Posted April 17, 2008
---
This Sunday, Access launches a new environment. We're so excited about this! We don't launch new environments very often, and not without careful planning. This environment is super-cool not because of what we're doing, but because of who is coming.
Xtreme is for middle- and high-school students (together for large-group teaching but divided for small groups). These students have been serving alongside adults for the last year, successfully creating environments like Waumba Land and UpStreet. Now, it's their turn!
Trying to remember middle school and having a hard time getting in the right mindset? Perhaps this video will help:http://northpointministries.org/player/FLVPlayer/FLVPlayer.swf?skinName=http://northpointministries.org/player/FLVPlayer/clearSkin_3&serverName=cp20979.edgefcs.net&fallbackServerName=&appName=ondemand&streamName=fcs.northpointcc/Middle_School/MS_Golf,50,fcs.northpointcc/Middle_School/MS_Golf,150,fcs.northpointcc/Middle_School/MS_Golf&isLive=false&bufferTime=2&autoPlay=false&autoRewind=true&isFullScreen=false
Get ready! Xtreme is launching this Sunday with time for worship, large-group teaching, and small-group discussion.… Read the rest
Posted April 14, 2008
---
Sometimes folks ask me what we do on the Sundays we don't "have church" at Access. My short answer is that we are busy "being the church." More on that in some posts next week, about some great things we've got planned for our "off" Sundays this summer.
But tonight I wanted to show you an example of that. To the right is a picture of five couples who didn't even know each other six months ago. Here we are, this weekend, on a community group getaway with our kids, sharing lots of laughs and doing life together.
Along the way, there are conversations about parenting, passages of the Bible, marriage, and about…well, life. Not scripted or rehearsed—just happening.
This is just one way that we are the church all week long, and not just on Sundays.
What are some ways that you are being the church and not just going to church? Comments welcome!… Read the rest
Posted April 12, 2008
---
I've spent the better part of the day studying the financials for Access Church, and I am so grateful!
When Access began, there were just a few families in Jacksonville that were supporting Access with their God-given dollars. We were largely dependent on visionary giving from those in Atlanta with a passion for creating environments for those far from God.
As the months have gone by, more and more couples, singles, and even children have come on board with their giving. In fact, 12 new couples and singles have started giving to Access on a regular basis since January of this year. That is significant!
It's not just about the money… it's about buy-in. It signifies more and more of you who get the vision and want to see this church impact our city!
This month our regular giving (money received by mail and Sunday giving) reached a new high! I can't say strongly enough just how excited we are about this!… Read the rest
Posted April 11, 2008
---
The warm summer weather is here, and with that, lots of outdoor Sunday activities. Access recognizes the need to adjust service times accordingly, and beginning June 1, our services will be held at 9:00 & 10:30am. Waumba Land (birth—age 5) will be open at both hours. UpStreet (grades K-5) will be at 10:30am and Xtreme (grades 6-12) will be at 9:00am.
Just so we're clear, I'm gonna say it again:
Begins June 1
9:00am—Adult Worship, Waumba Land, and Xtreme
10:30am—Adult Worship, Waumba Land, and UpStreet
And that all starts on… June 1. Very good.
Now, go tell a friend!… Read the rest
Posted April 10, 2008
---
We wanted to communicate how excited we are about launching Xtreme in just 10 days. This spot comes close. Turn up the volume on your computer…
---
Some of you still haven't registered for DRIVE!
Are you crazy? Don't you know it's right around the corner on May 5?!?!
Maybe it's because you still have some unanswered questions. Tripp and Tyler got a hold of a microphone at a recent staff meeting and asked Andy the same questions that are probably on your mind:
Go here for a great series of funny videos.
Email one of us and we'll hook you up with the special price for strategic partner volunteers!… Read the rest
Posted April 9, 2008
---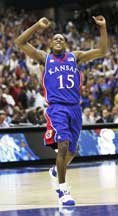 Everyone is congratulating Kansas today. That's great. They put a round ball through a metal hoop a bunch of times last night.
But have you seen what the volunteers at Access Church have been doing?? Truly amazing stuff!
Part of our staff meeting each Monday involves sharing "win" stories—How we are seeing God at work in the body of Access Church. It's my favorite part of the week, celebrating what we see God doing through our volunteers!
Here are a few you might enjoy knowing about:
Rose, a beautiful woman in her 90s, continues to join us each Sunday to celebrate and sing, "Jesus is Alive!"
A local schoolteacher invited a student, unfamiliar with church, who in turn has invited his entire family!
A couple whose marriage is in trouble has come back to Access for the practical teaching. Can you imagine how Louie's message might have impacted them?
A self-described atheist who has been coming to Access emailed me to say, "I hope to strengthen my faith, shed my preconceptions, and relieve my tensions with God some day."
An Easter attender sent an email to say, "The music touched me and I have continued to think about it every day since.
…
Read the rest
Posted April 8, 2008
---
What are Adam and Rich doing in the studio right now with this guy?
Come Sunday and find out!
Don't be a minute late!… Read the rest
Posted April 3, 2008
---