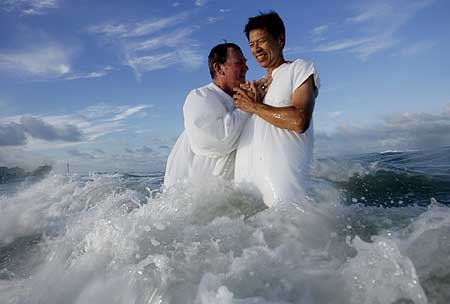 Baptism is an incredible step in the life of a believer. It's a symbolic time to identify with Jesus Christ and publicly proclaim that we place all of our hope in him alone.
Some are intimidated by the idea. Maybe it's the thought of being in front of a group of people dripping wet. Maybe it's the public confession of faith. Some hesitate because they aren't sure what they will say.
Objections aside, it's a clear commandment from our Lord to be aligned with him in this way, and it's something we strongly urge you to consider as a Christ-follower.
Our next baptism service will be Sunday evening at Sawgrass Beach Club. It's going to be a beautiful setting to invite family and friends to hear stories of God's great love.
Join us at 6:30pm. Directions are here. See you then!… Read the rest
Posted August 22, 2008
---

We are really excited that a new North Point strategic partner is getting ready to launch in Gainesville, and we'll have neighbors right down the street. Anthem Community Church will meet first and third Sundays each month at 10:00am beginning October 5 at 2902 SW 75th St. Anthem will launch with an exciting worship environment for adults and a full lineup of kids' ministries, from preschool to high school.
The name Anthem was chosen because it means, "a psalm or praise to God." "Many people aren't living their lives out loud Monday through Saturday," said Chad Clemons, Anthem's lead pastor. "They don't let the world know what's happening in their heart. We want to let people know."
Anthem will meet in a 1980s Baptist church building, which they have completely renovated. "Outside the building looks like a traditional Baptist church, but inside it's a totally different vibe," said Derrak Ostovic, Anthem's service programming director.
Andy Stanley of North Point Community Church in Atlanta is Anthem's teaching pastor.… Read the rest
Posted August 19, 2008
---
Fast-forward one year from now.
Who are you doing life with?
Who is encouraging you to be more like Christ?
Who is celebrating your joys with you, and mourning your losses?
Who is praying for you and those you love?
If you hesitated, even just a little, you should watch this video. Then join us for GroupLink.
This Sunday, August 17, 4:30pm, at UNF.
---
At the beginning of July we announced a contest to "Go Orange" this summer. Some Accessibles have taken the challenge quite seriously—especially the part in the rules about bribing the judges with food (it's allowed).
The deadline for the contest is this weekend. Send in your pics & videos now to be considered for the super-cool Grand Prize: a one-of-a-kind "orange machine!"
Why all the fuss? What is being orange all about?
Adam Flynt (Director of Family Ministry) is going to explain Orange on August 17. If you are a kid, know a kid, have kids, or were a kid, you're gonna want to be there on Sunday.
It's not enough to be a church that teaches your kids about Jesus. We want to be a church that teaches you how to teach your kids about Jesus.… Read the rest
Posted August 11, 2008
---
Evidently I'm the last guy on the block to blog about this. Two of our very-awesome Access worship leaders, Abner Ramirez & Amanda Sudano, have released a new album!
We love these two for so many reasons. First, because they really love God and desire to lead us in giving him the worship he deserves. Second, because they are so easy and fun to work with. Every week they are at Access is a special week. Our whole production team loves to see them walk in. Third, we've shared some great moments. Anyone remember Easter? And lastly, they are ridiculously talented. I mean, crazy-stupid-how-can-you-sing-like-that talented!
They'll be at Access Church again on September 7. Hopefully they'll bring some of the new CDs with them so we can enjoy their sound all week long.
See their JohnnySwim web site.… Read the rest
Posted August 8, 2008
---
A few months ago, Access Church linked arms with JT Townsend and his family for what we called The Intersect Project. If you missed it you can see the FOX/CBS news story here. Now it's time to bring this project to completion so that the Townsend family can sell their home and move into a wheelchair-accessible home for JT.
Sunday, August 10th, from 9am-2pm, we are going to be working at the Townsend's home to put the finishing touches on it. That's right! We won't be going to church that Sunday, we will be the church to the Townsend family. We would love to have you or a friend join us.
We're going to be doing some touch up painting, lawn mowing and clean up, laying carpet, cleaning the bathroom and doing some tile work, installing kitchen cabinets, and more.
Contact Adam.Flynt@AccessChurch.org to let us know if you want to be a part of this amazing project.… Read the rest
Posted August 5, 2008
---
You haven't been reading this blog for very long if you haven't caught on that I'm a little bit crazy about the volunteers at Access Church.
They are so varied, so gifted, and so fun! Each has been equipped with unique gifts, and they love to bring them as acts of worship all week long.
Some can sing, and lift up their voices in a way that I can only hope to sound like once I get to heaven. Others are mechanical, and fix broken vehicles with hardly a second thought. Some are amazingly relational and can make middle-schoolers feel comfortable. Others are generous, and give in such a way as to humble and inspire me to be more generous.
A few times each year we try to pull our volunteers all together. Partly because it's necessary to train and equip for the jobs we have in front of us. But also because we just love being together. It's a unique group—called to be the church instead of just going to church.… Read the rest
Posted August 4, 2008
---