Dear Accessibles,
I am so grateful for you.
Grateful for the 15 people that began by praying together on Sunday evenings. You had no staff, no backing from North Point, no certainty of the future. Still, you met month after month to pray and ask God to do something amazing in our city. Thank you for building this church on prayer.
Grateful that the vision for creating a church that unchurched people would love to attend has spread to so many others. Grateful that there are people that pray for out church that we've not even met yet!!
Thank you for recognizing that this vision would require tangible resources. Thank you for prioritizing a percentage of your income every month and giving that back to God for his glory here in Jacksonville. I am so thankful for those who call Access Church home and support us financially. And I'm amazed at how many of you give to our vision even though you don't attend Access!… Read the rest
Posted November 26, 2009
---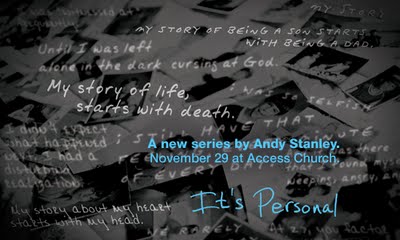 Do you desire a personal connection with God, but have genuine questions, doubts, and concerns?
In It's Personal, Andy Stanley makes a case for the fact that adults don't become followers of Christ by getting all their questions answered.
In most instances, something happens that shrinks those questions. And that something is always personal.
You don't have to understand everything to believe in something.
Join us for the kick-off of this four-part series November 29, 10:30am, at Access Church..… Read the rest
Posted November 22, 2009
---