Today was Florida's day to contribute to the current political discussion. Stephanie and I were eager to exercise our privilege to vote, and took the kids with us this morning so that they could observe this wonderful process. (Flawed, but wonderful.)
After lots of discussion about who we chose to vote for, and why, Chase (age 7) asked a great question, "Dad, who does God want to win?"
(Ha, ha! You gotta love that. Dad, don't bore me with the issues. Just tell me who is God's man or woman and I'm gonna back that candidate!)
My answer to Chase? "Son, I have absolutely no idea."
You may not agree with me on my choice for president (which you'll never read about here), but I hope you'll agree with me that God is in charge of this process and that his plans are far superior to ours. Sometimes, in fact, his ways are mysterious. Is it possible that God's choice for president is different than yours?… Read the rest
Posted January 29, 2008
---
I had the opportunity this week to review Tim Stevens' soon-to-be-released, "Pop Goes The Church." Tim is the executive pastor at Granger Community Church, a church that is consistently viewed as one of the most innovative churches in America.
Granger earned that reputation by working hard to connect with culture, and they've taken their fair share of criticism for it. I really enjoy Tim's writings on leadership and ministry, so I was eager to read the expansion of those thoughts in book form.
I found the book provoking, and repeatedly interrupted Stephanie to read whole sections out loud to her. The best parts? Compelling arguments that this is not a new way of delivering the good news at all, but in fact exactly how Jesus and Paul introduced this radical new faith in their context. Tim offers fascinating evidence that Jesus was much more in touch with popular culture than we might think.
If you think the church needs a new strategy for connecting with culture—that cheezy bumper stickers and gospel t-shirts aren't enough, you're ready for this book.… Read the rest
Posted January 26, 2008
---
Some of you visit this blog via a browser, like Internet Explorer or Safari. You might visit other blogs, too, and you've started reading them all from one page, like
Google Reader
or
Bloglines
.
Others of you are hard-core blog readers, and you use a stand-alone RSS reader. NetNewsWire has been around for a little while, a lot of folks love it, and it just went from being $30 to free. Free is good.
I've been using a little beauty called Vienna for a couple of months now, and I gotta tell you, I love it. If you check in on more than two blogs a day, you really ought to give this a try. It's solid, has a great interface, even has a built-in browser, and it's always been free! Give it a shot.
Comments welcome. What's your favorite way to check in on the blogosphere?
…
Read the rest
Posted January 21, 2008
---
Maybe it's the fact that Andy Stanley's message on what it really means to "go deep" is one of my all-time favorites.
Maybe it's that some friends we've been inviting for a year finally decided to give Access a shot.
Maybe it's the killer stage design that our service programming team put together to illustrate our Foyer-Living Room-Kitchen strategy.
Maybe it's all the couples and singles that signed up to join a community group.
Or maybe it's the haunting vocals of JohnnySwim during our all-acoustic worship set.
But I'm still praising God that I get to be a part of Access Church—21 hours after my alarm went off!
Does your church do that to you?… Read the rest
Posted
---
This Sunday Andy Stanley's going to tackle a question we hear often at Access, "How do I go deeper?"
The reality is that spiritual depth has far less to do with how much you know and an awful lot to do with how well you love people.
Unfortunately, while that message is all through the New Testament, we often miss that in church. In fact, if you hang out with church people very long you might start to think that following Jesus is all about knowing a lot. But it's not. It's about loving well.
Our mission statement is "to lead people into a growing relationship with Jesus Christ." Everything we do is about that—seeing people increase their faith in God. So, how do we disciple people?
Some churches have a great teaching ministry—layers upon layers of classes and electives. In those churches, you hear phrases like "biblical literacy" a lot. Some of those people ask, "When does Access get to the deeper stuff?"
However, in my years of ministry, some of the smartest Christians I knew were also the worst at following Jesus' purpose—"to seek and save the lost."
Other churches talk about obedience.… Read the rest
Posted January 17, 2008
---
We tend to believe that being disruptive is a bad thing. (Take it from a "disruptive" student who spent a lot of time getting to know the principal and his staff.)
In business, certain ways of conducting commerce are so unique that they literally transform their category, and sometimes, the industry. In recent years, certain technologies have so permeated our culture that we refer to them as "disruptive technologies," because they change not only an industry, but our society at-large.
This weekend, the technology industry is holding its breath to see what Steve Jobs will introduce on Tuesday. The same company that brought us the Macintosh, the iPod and the iPhone has something new up its sleeve. If Apple's past is any indication, there will be some initial skepticism (I thought the original iPod was too expensive and would never sell. Ha! Ha!) followed by mass adoption. (Comment back here on Tuesday afternoon and let us all know what you think about Apple's annoucement.… Read the rest
Posted January 12, 2008
---
30 families partnered with us during the three-month RoadMap campaign to raise $200,000 over and above regular giving. We are so grateful! This is so important to our 2008 ministries. While still $100,000 short of our goal, we are pumped that this young church gave a grand total of $330,000 in our first ten months.
The RoadMap campaign has had me examining scripture more and more to see what God has to say about money. There are some instances where God's people rallied to raise specific amounts of money for a specific project (rebuilding the wall of Jerusalem or building the temple, for example). But mostly when God talks about us giving our resources, it is in terms of priority percentage giving. In other words, before we get too impressed with what we gave, we should compare it to what we kept. Ouch. Regardless of where we fall on the net-worth scale, that's pretty convicting.
We have to keep talking about money in 2008.… Read the rest
Posted January 11, 2008
---
Some people recently have complimented me on the number of people coming to our Sunday services. We had especially big crowds at Christmas Eve and the first Sunday in January. They mean to be nice, but I want to make a couple of things really clear:
1. I have nothing to do with it. Oh sure, Stephanie and I are constantly invest and inviting, and our team works really hard to make our environments irresistible, but the Holy Spirit is the only one that can really motivate people to be in the room on Sundays.
2. That's not our goal. I know, that's weird for a pastor to say. But, filling the room, filling a bigger room, or building a big room and then filling it—this is not how we measure success!
We measure success by one number: the percentage of adults who are active in small groups. Right now that number is 45%, and we feel pretty good about that, even though we're itching to see it go over 50%.… Read the rest
Posted January 10, 2008
---
This past Sunday was one of my favorite at Access. I get excited each Sunday we have church, but today was above and beyond. Here are some of my personal thoughts from the first Sunday of 2008:
Our production team blows me away every Sunday. They are some of the most talented people that I have worked with and all remain humble and absolutely passionate. Great job today!
Let's see… what makes today fantastic? We were setup early. We got done with rehearsal in plenty of time. We used the extra time to troubleshoot a problem. And, the services went really well.
That's just the start. The worship content was great too. We started with Charlie Hall's Running With Your Heart (Thanks Danny Dukes for learning this). This song just sums up the series we're in. It was awesome.
We introduced our new part-time youth director, Brian Reese. Welcome, Brian!
Then, Andy's message was fantastic. I love the Imagine series, and every time I hear it I get more and more excited about Access Church.… Read the rest
Posted January 9, 2008
---
One recent Friday Stephanie informed me that the driver's window on my car would not go up.
Of course, being Friday afternoon, I knew it'd be tough to get it fixed before Monday. "As long as it doesn't rain on Sunday morning on my way to Access, I'll be okay," I thought.
And of course, when my alarm sounded at 3:30am, I could hear the wind howling outside and the rain pounding the roof. My thoughts were immediately less-than-pastoral.
Picture me driving up I-95 at 4:00am, with the rain pouring through the driver's window. It's a good 20-minute drive to Access, and by the time I got there not only was I soaking wet, but there was standing water in the footwell of my car. Oh, and it was cold. Wet and cold. Such a lovely combination. Did I mention that it was four o'clock in the morning?
My biggest regret, of course, was that it was 4am and I couldn't think of anyone to call at that hour.… Read the rest
Posted January 4, 2008
---
Reflecting on 2007 has been very humbling for me this past week. It's been a great reminder that sometimes God's vision is different from our vision, but His is always better! He has done something amazing in the past year, and I am once again at a loss for words in my worship for Him.
Much of 2007 was about "starting." Starting a new church, new friendships, new patterns, new staff, new cultures. For our family that even included a new house in a new neighborhood in a new city with a new dog and new (much to our chagrin) vehicles!
The fun thing about 2008 will be continuing all that God has started. How will we participate in his vision for the year ahead? How can we pray for Access Church at the start of this New Year? Our first full year as a church!
I've read some pretty daunting "vision" statements from other pastors in the last 48 hours about the year ahead.… Read the rest
Posted January 2, 2008
---
It's year-end, and you might be thinking about how your family or company can make tax-efficient gifts to your favorite charities. As if the season weren't busy enough, you've got to track down your favorite charities (and maybe some new ones) and get the checks postmarked no later than December 31.
There's a better way.
If you plan to give more than $5,000 to charities (ex: $1,000 each to five different charities) you could benefit from a donor-advised fund.
Check with a certified financial advisor for the skinny, but basically:
You create a donor-advised fund (see Schwab or Fidelity) and call it whatever you want (ex: "Smith Family Foundation").
You gift cash or appreciated securities to this fund and get the tax deduction the day the monies transfer.
You can make grants from the fund to IRS-recognized charities all through the coming year, in amounts as little as $100. You can even set up recurring grants.
It's a great way to be wise stewards of God's money and strategically empower ministry around the globe.… Read the rest
Posted December 26, 2007
---
This afternoon Stephanie commissioned me with overseeing the kids as they wrapped presents for Grandma & Grandpa—presents they picked out themselves at the Dollar Tree. Have you ever wrapped presents with children 10, 8, 6, and 4? I barely escaped getting wrapped myself!
At one point, I was trying to gingerly coach Carly in the art of folding the paper at the corners. In spite of my generous offering of free advice, she pretty much ignored me. In fact, I thought she hadn't heard me at all.
But then, finally done, she held up her present with great pride. "Dad," she began, "when I get a present, I don't really care how it's wrapped on the outside. I just want to get to what's inside."
I had to laugh. "I think a lot of people feel the same way, Carly."
"And Dad," she continued, "I think God feels that way, too. He doesn't care how we're wrapped on the outside, he just can't wait to get to our insides."
That was enough to make me think hard as I prepare for celebrating my saviour's birth in the next two days.… Read the rest
Posted December 23, 2007
---
Join Access Church for a different kind of Christmas Eve,
with a special message from Andy Stanley and some rockin' Christmas tunes!
Experience Not-So-Silent Night December 24
5:00 or 6:30pm
at the University of North Florida.
Childcare is provided for birth—age 5.
Elementary-aged children are welcome in the service.
…
Read the rest
Posted
---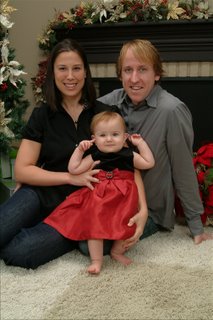 Jacksonville musician Darin Peckham has been playing guitar in our worship services since last spring. You can imagine how excited we were when Darin recently joined the Access team in a part-time role as music director!
Darin's responsibilities include lining up the band and the worship selection each Sunday. He also works with Rob Lott, coordinating the creative elements of the service.
Originally from Port Orange, Darin has been in Jacksonville since his UNF days. Darin is married to Sarah and is the very proud father of Ruby. Darin can usually be found mixing it up with local musicians around town or in his home studio producing music for some of Jacksonville's finest.
Darin and Sarah are two of the nicest people you'll ever meet. Be sure to wish them a merry Christmas on Monday evening.
You will be there Monday evening, right? 5:00 & 6:30pm. Invite a friend!.… Read the rest
Posted December 21, 2007
---